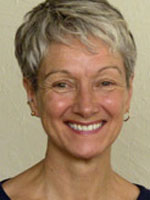 Carol Boyce
(1951-)
Carol Boyce was born in Manchester, England. She was in the middle of a PhD at London University when she found the Life of Hahnemann on a library shelf. She graduated from the College of Homeopathy, London, England in 1985.
Later that year she went to Calcutta, India as part of the first Bengal Allen Medical Institute's International training, where she worked in the oldest homeopathic hospital in the world and prescribed in rural clinics.
In 1987 she and her colleague Linda Shannon organized the Bengal Allen International trainings and set up a nutritional support project for a homeopathic clinic in a Calcutta slum. Twenty years later this project still provides nutrition for malnourished children and employment for local women.
Carol has taught homeopathy since her graduation, including thousands of people at acute workshops, a great many of whom went on to study professionally at the College of Homeopathy where she was a core faculty member for 11 years.
In the late '80s she was part of the team working with Miranda Castro on her Patient Management module and for the last 16 years has specialized in Patient Management and further developed Miranda's work.
In March 1991 after the First Gulf War, she went to Baghdad, Iraq, with a backpack full of remedies. There she taught groups of doctors in Baghdad's impressive Medical City, by then bereft of the most basic medical resources following sanctions.
In 1992 she co-founded and eventually became full time Director of the non-profit Homeopathy For a Change, forerunner of Homeopaths Without Borders UK, and set up clinical/teaching projects in places as diverse as Cairo, Honduras and London
This set the stage for a ongoing homeopathic training, the formation of the Egyptian Society of Homeopaths, and acceptance of homeopathy by the Egyptian government; in London projects specializing in alcohol recovery, drug rehabilitation, and serving children with severe behavioral problems.
In 1996 Carol gave up a busy grassroots practice to relocate to Los Angeles and complete a two-year certificate course in film at UCLA.
She returned to teaching in 1999, as part of the core faculty of the American University of Complementary Medicine's MSc Homeopathy program. In 2000 she became the Clinical Supervisor for the AUCM's internship, and most recently developed a 30-hour Distance Learning video program in Philosophy for the AUCM's PhD Homeopathy program.
In 2002 she was Executive director of Homeopaths Without Borders US and taught in medical schools in Cuba.
Carol is now on faculty at many of the main homeopathy schools in the US and since 2004 has been Director of Education for The Homeopathic Symposium, a website offering interactive online clinical training and a video archive of cured cases.
She is currently writing extensively about the politics of medicine and how they relate to homeopathy, has been heavily involved in the campaign to save the Royal London Homeopathic Hospital, and is published in a number of homeopathic journals. In 2007 Carol began making a series of documentary films about homeopathy.