FREE BONUS SESSION
Introduction to Homœopathic Diagnosis

Join us for a look at the exceptional work being done by George Dimitriadis.
COURSE OVERVIEW
ACHENA Approved for 21 Hours - Available Online Only


Homœopathic Diagnosis refers to determining the specific medicine homœopathic to the case - a Bryonia cystitis, Sabadilla coryza; Sulfur prostatitis; Zincum migraine, etc. Over and above an understanding of the processes in health and disease, this homœopathic diagnosis requires an accurate knowledge of substance effects, as well a good familiarity with the tools available to facilitate their recollection in the clinical setting.


This series of lectures will carefully examine Hahnemann's development of a new, methodical approach to the acquisition of knowledge of substance effects (substance trials, provings), and how he married these results with existing toxicological reports from the old (allopathic) school into an unmatched recorded 'synergy' of speculation-free, determinate effects - this will be the study of our pharmacography.
We will next examine the tools developed to facilitate our application of omoion (similars), with a brief history leading up to the most compact and yet accurate repertory, Bönninghausen's Therapeutisches Taschenbuch (TT), and how this work most closely reflects Hahnemann's own teachings - this will be the study of our repertography. The series of lectures will provide case exercises and examples demonstrating the use of Bönninghausen's TT repertorial method towards determining the homœopathic diagnosis in applying Hahnemann's own teachings - hence the title "Homœopathic Diagnosis - Hahnemann through Bönninghausen".


Titles by George Dimitriadis include:
Dimitriadis carefully outlines Bönninghausen's method in this improved translation, which helps immensely in finding which symptoms are crucial for remedy selection.


Dimitriadis is an excellent authority on Bönninghausen and this book is invaluable in the homeopath's library.


George Dimitriadis is an excellent authority on the methodological understanding of Hahnemann's work concerning his thesis on Chronic Disease. This work will further the understanding for both the serious student and veteran practitioner alike.
ABOUT
George Dimitriadis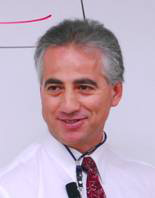 George Dimitriadis is known worldwide for his exceptional scholarship and precision in his homœopathic research and writing. With this series on Homœopathic Diagnosis, we have an unprecedented opportunity to study with a contemporary homœopathic virtuoso.
PRAISE FOR
George Dimitriadis
George Dimitriadis is one of a handful of individuals in the world today who possess an in-depth knowledge of classical Hahnemannian homœopathy. He is a scholar and an excellent prescriber. I have known him personally, and have followed his efforts to establish Hahnemannian homœopathy in Australia. His thorough, scientific approach does great service to classical homœopathy in general, and adds prestige to the profession. We are proud to have him in our ranks as a superb, scientific defender of the cause of pure homœopathy.
— George Vithoulkas
---
Having had the privilege of discussing Bönninghausen's Therapeutic Pocketbook [TBR2] with George, I can only say that I am thoroughly impressed with the level of real scholarship I see. I value any opportunity to learn from this gifted teacher and researcher. His eye for detail and thoroughness are impressive. His writing style and extensive footnotes offer the reader clarity and simplicity with the option of depth and further elaboration. Wow. I am a total fan. Just get anything he does.
— Joe Kellerstein, ND
---
I am personally grateful to George Dimitriadis because I was inspired to study Bönninghausen's Therapeutic Pocketbook in-depth after seeing him speak at the 2013 JAHC convention in Reston, Virginia. Although I was trained primarily in post-Kentian repertorisation, I have now been utilizing George Dimitriadis' English translation of Bönninghausen's Therapeutic Pocketbook [TBR2] almost exclusively for the past year and have seen significant improvements in the accuracy of homœopathic prescriptions and clinical results. Dimitriadis' tireless efforts with over 15 years of work to edit Bönninghausen's Therapeutic Pocketbook have made TBR2 the most accurate and reliable repertory available on the market today. The history of the Pocketbook and instructions for its use in the prologues are invaluable. TBR2 is also the only repertory with an extensive exegesis explaining the meanings of rubrics with reference to the primary provings. Dimitriadis' work is meticulous and evidences that he is one of the greatest scholars of pure Hahnemannian homœopathy today. I also highly recommend Dimitriadis' companion book Homœopathic Diagnosis, Hahnemann through Bönninghausen. This book gives a more extensive history and theory background of the Pocketbook as well as about 50 case examples for students to practice to learn the method of using TBR2 to efficiently and effectively reference the materia medica, resulting in highly accurate homœopathic prescriptions. I recommend that beginners in homœopathy start with TBR2 and Homœopathic Diagnosis to have a solid foundation in the roots of homœopathy. Additionally, I recommend these works for more advanced homœopaths because the detailed endnotes are an invaluable treasure chest of knowledge.
— Jamie Oskin, ND
---
REGISTRATION INFORMATION

Refund Policy: No refunds issued for WHN courses

If you are having technical issues with PayPal and need help enrolling,
please contact the Course Coordinator at: whnclasses@whnow.com,
888-722-5423 (Pacific Time).


International shipping charges apply for DVD/CDs, and depending upon current restrictions, we may not be able to ship to your country. Contact us to confirm and obtain shipping charges.
The DVD option gives you all the same materials and presentations. The only thing it does not provide that the online option does, Is the Letter of Attendance or ACHENA Hours. DVD plays on a computer & CD is in MP3 format.


Your registration includes:
A multimedia presentation to view on your computer.

Online review and self-assessment quizzes for each session.

Documentation of Homeopathic Education Hours* - The full completion of this course provides 21 hours of Homeopathic Education.

Access to our WHN Course website.

High-quality PowerPoint presentations.

Case assignments and Repertorizations.


*To receive Homeopathic Education Hours: You must watch the recorded sessions, and complete all quizzes with a score of 80% or better. Please be sure to print and safeguard your Letter at the conclusion of the course. Partial course credit is not given for WHN courses.


For More Information - or to register offline:
Email whnclasses@whnow.com
or call 888-722-5423 (Pacific Time)